To provide high security confidence levels for  your critical IT (IoT, Cloud etc.) infrastructure, it is important to have access to a tool, which can thoroughly and automatically check the syntactic and semantic faults of Access Control policies before deploying them for operation.
Access control policies are increasingly specified to facilitate managing and maintaining access control. However, the correct specification of access control policies is a very challenging problem. This problem becomes increasingly severe as a system becomes more and more complex, and is deployed to manage a large amount of sensitive or private information and resources.
In regard to cyber security, the IoT, privacy, and information sharing, access control is one of the most crucial elements in protecting enterprise adn government infrastructures for healthcare, transportation, financial, power grids, military, intelligence, and safety systems, etc. Thus it is essential to have measurement technology such as OpenPMF Auditer for access control policy administrators and authors to ensure the safety and flexibility in composing and combining their access control policies.
Security confidence with OpenPMF Auditor
Guidance for Security Policy implementations
OpenPMF Security Policy Auditor gives you consolidated visibility into your technical security policies. It provides guidance where to focus your Cybersecurity efforts, and helps you document Cybersecurity for audit & compliance. Using proven information modeling formal testing techniques, OpenPMF Security Policy Auditor™ analyzes information about your technical security policies and your IT environments.
OpenPMF Security Policy Auditor™ includes access to the OpenPMF Security Policy Auditor™ cloud service, and to ObjectSecurity's professional services. This makes OpenPMF Security Policy Auditor an easy-to-use solution that can involve you as much or little as you prefer. It is designed to be rapidly customizable to fit to your particular audit/test requirements and IT landscape.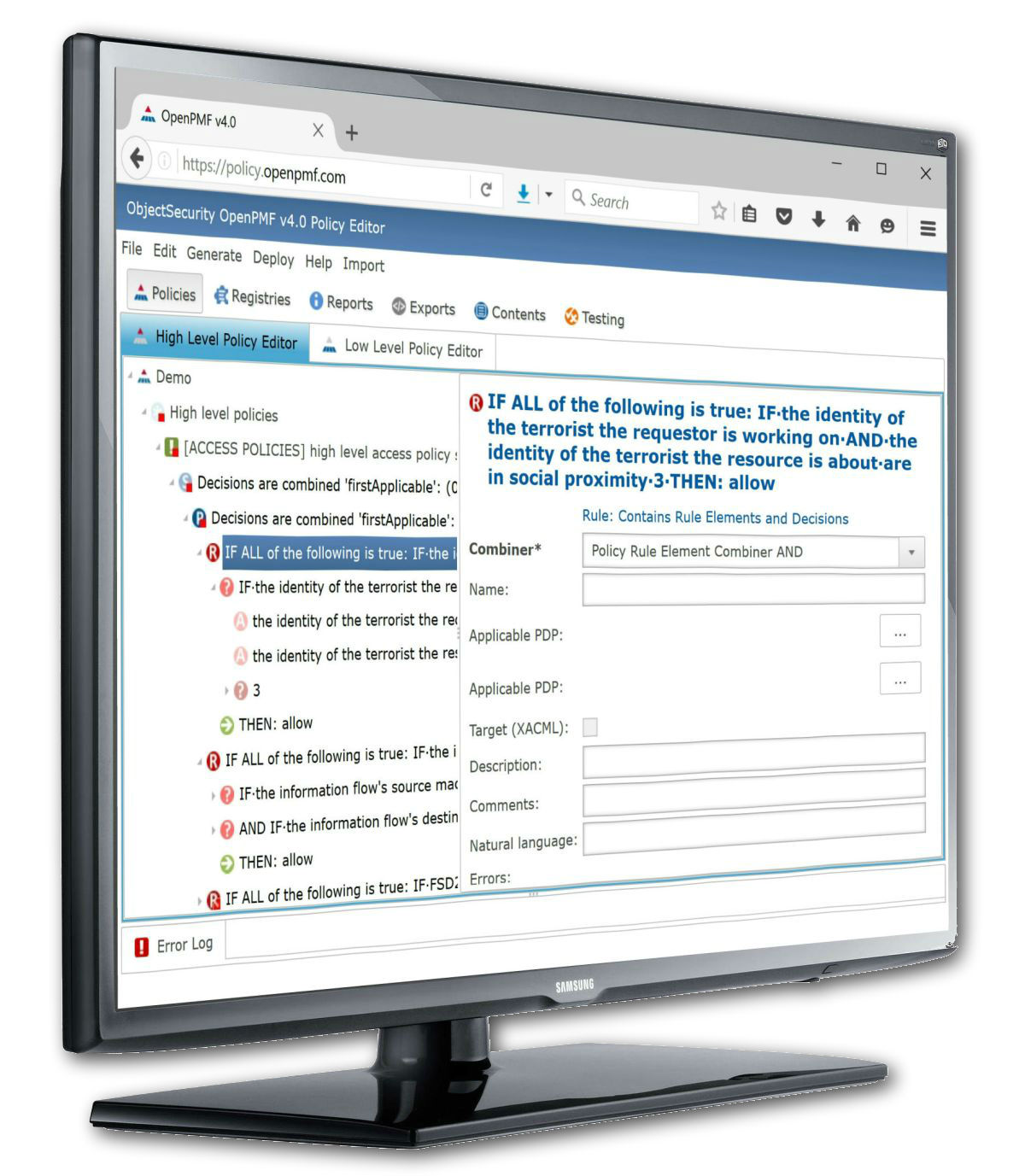 OpenPMF Security Policy Auditor
Interested in learning more and understand how your organisation can benefit from the OpenPMF Security Policy Auditor and grow your organisations security? Contact us for a Demo.