OpenPMF Security policy management platform stops security breaches with powerful policy enforcement. 
OpenPMF™ Makes Security Policy Manageable Through Automation.
Our unique OpenPMF™ security policy automation platform gives you powerful security policy implementation that is also effortless to manage. It allows you to improve protection, monitoring, testing, and documenting – for your information, users and devices.
Author generic policies using terms you choose
Generate technical rules & configurations at the click of a button
Enforce & monitor via OpenPMF's runtime, or export 3rd party configs.
Automatically update policies when your IT landscape changes
Test policies before deployment (pre-release version)
Rapidly customize policies and enforcement for your organization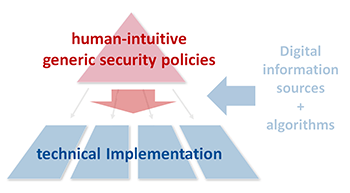 OpenPMF™ turns human-manageable security policies automatically into the matching preventive technical implementation. OpenPMF  lets you manage security policies in customizable terms that matter to your organization. OpenPMF (patent-pending) ensures policies are manageable even if IT landscapes are large and change dynamically. The result is a significant cost saving, esp. with respect to maintenance.