We did it! On February 13/14, 2017, ObjectSecurity proudly introduced a new major product release: OpenPMF 4.0. The launch events were held during RSA Expo February 2017 at the Elan Event Venue.
Thanks everyone who came to our launch events, we are humbled by all the great feedback we got for our new OpenPMF 4.0 version!
Our launch was successful and well visited by cybersecurity leaders, professionals and press from around the world. The OpenPMF 4.0 Security Policy Automation launch included (in cooperation with San Diego based CyberTECH) a series of educational launch events where we discussed cybersecurity and security automation for the internet of things and smart cities, and the importance of security policy automation for governments, enterprises, police and defense.
The events included: (1) Pre-RSA Conference Bangers & Mash breakfast on Feb 7, 2017 in San Diego, CA; (2) a conference on the RSA week Monday at Elan conference venue next to Moscone Center in San Francisco on Feb 13, 2017; (3) an RSA Conference 2017 Bangers & Mash breakfast at The Chieftain Pub in San Francisco, CA, on Feb 14, 2017; (4) a conference on the RSA week Tuesday Fe b 14, 2017, again back at Elan Conference Venue; and (5) an evening after party on the 14th at Elan. If you have visited one of our launch events we hope you enjoyed it and learned why security policy automation is so important. And if you did not manage to visit one of our launch events, we hope you enjoy our brief recap in words, pictures and videos:
"One of the best launch events at RSA 2017. A real proven product without the hype and snake oil you see too often. OpenPMF Security Policy Automation is here to stay."
– John Mullen, CEO, Promia, Inc.
"OpenPMF 4.0 is in a league by itself, including the only security policy automation platform with natural language policies… "
– Mike Davis, CISO,ABS & Cyber Evangelist
"OpenPMF 4.0 provides comprehensive security policy management.  RTI is looking forward to partner with ObjectSecurity to secure DDS-based systems."
– Stan Schneider, CEO, RTI, Inc.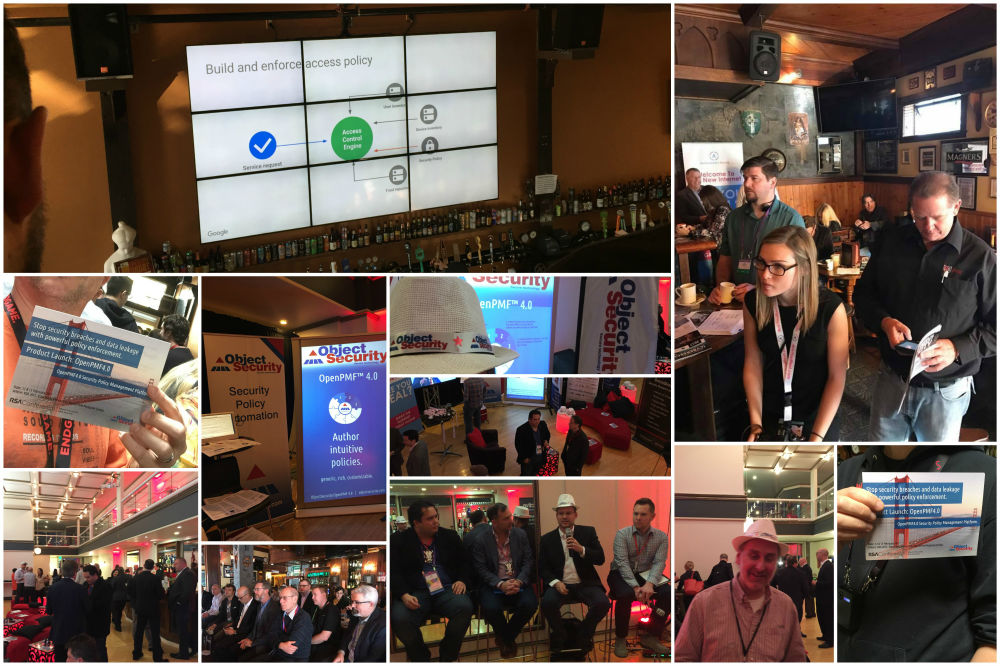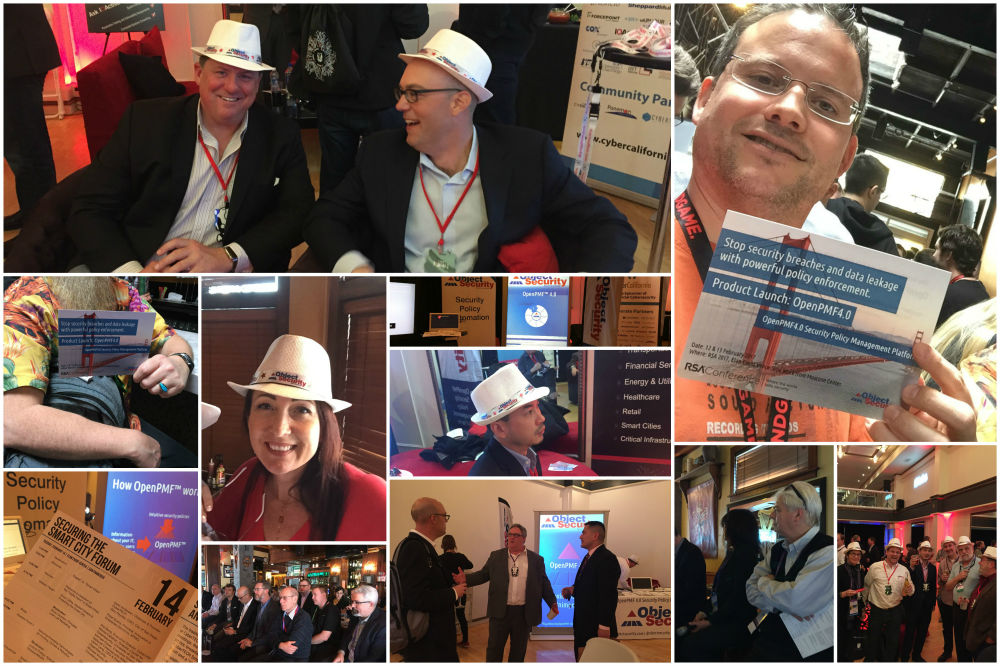 ObjectSecurity's CEO Ulrich Lang explaining OpenPMF 4.0 new features and benefits at the launch event.
And take some time to watch the OpenPMF 4.0 launch event panel discussion"Securing Smart Cities". 
About OpenPMF Security Policy Automation.
OpenPMF is already used successfully to improve cybersecurity for military, governments and enterprises around the world. OpenPMF offers intelligent automated policy management, on premises and in the cloud. OpenPMF 4.0 helps to simplify and to automate security policy automation and management. It stops security breaches and provides powerful security policy implementation that is effortless to manage, allowing users to improve protection, monitoring, testing, and documenting – for information, users and devices.
Security Policy Automation 360 Webinars.
IBM asserts that 95 percent of successful hacking attacks or incidents were because of some kind of human error. ObjectSecurity helps organizations automate security, and by doing so avoids many of these human errors. The Security Policy Automation 101 webinars will help you to understand the benefits and advantages of Security Automation and in detail Security Policy Automation. These one hour webinars are free to attend and are a must attend for CISOs, CIOs, Security Managers and Security Directors.
Interested in learning about the benefits of Security Policy Automation? Request a free license for OpenPMF today.