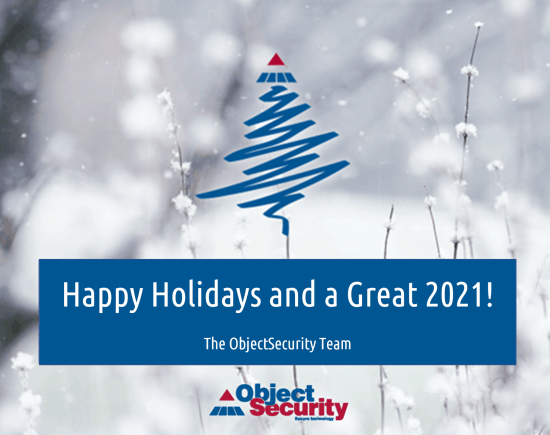 Hello,
Happy Holidays! On behalf of ObjectSecurity, I hope you are well and safe. This year ended up being one of our most successful ones yet, and you have been an important part of it. ObjectSecurity continues to grow with a full contract pipeline and growing team. As we broaden the value and impact of our cybersecurity automation solutions, our efforts have helped increase efficiency, automation, resiliency, and cost optimizations. These include our security policy automation, supply chain risk analysis automation, and vulnerability assessment automation software.
We are entering 2021 thankful for our supportive customers, and are excited to welcome the New Year by offering to help you with any cybersecurity challenges. Here are some of the highlights from 2020 where you will find ObjectSecurity at the forefront of cybersecurity innovation:
Vulnerability analysis automation
ObjectSecurity VAPTBOX is a portable automated vulnerability assessment device for embedded systems. In 2020, our multi-million, multi-year government contract was extended to fully develop VAPTBOX.   LEARN MORE
Supply chain risk analysis automation
Supply chain risks were all over the news this year. ObjectSecurity SCRAMS analyzes procurement data and microelectronics for supply chain risks. In 2020, we released "easySCRAMS", a freemium SaaS version – try it out today!   LEARN MORE
Security policy automation
ObjectSecurity OpenPMF offers powerful yet manageable technical security policy implementation. In 2020, we continued to mature the product with use cases around cloud orchestration, container orchestration and CI/CD   LEARN MORE
AI-driven cybersecurity
In 2020 we have significantly extended our focus on AI-driven cybersecurity, for example in a contract to develop an adaptive AI-driven solution to detect whether a wireless sensor network is under attack.   LEARN MORE
We are excited to offer two exclusive holiday gifts:
easySCRAMS
Time-limited, full-featured access to our freemium "easySCRAMS" supply chain risk analysis automation
OpenPMF
A free OpenPMF security policy automation pilot for an eligible enterprise or government organization
The entire ObjectSecurity team wishes you a happy and successful 2021!
Ulrich Lang,
CEO & co-founder